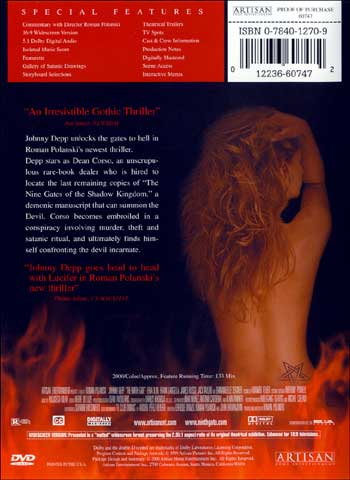 By Steve Vivona

Director Roman Polanski has always been fascinated with the dark side of life. Even before the murder of his wife Sharon Tate by the Manson family, Polanski's films have reflected this obsession. "Repulsion" (1965) starring Catherine Denueve is a prime example.
Since then he's brought us "Rosemary's Baby," "Macbeth," "Chinatown," and "Death and the Maiden," films that disturb as much as they entertain.

After a six-year absence from filmmaking Polanski has brought forth "The Ninth Gate," starring Johnny Depp, an actor known for taking chances. Depp is Dean Corso, an unsavory rare book dealer who cheats his clients at every turn. Corso authenticates books for the rich, often concealing their true value and buys them for a song. Having little remorse for his actions and a great love of money, it's not surprising Corso has few friends.

Corso is contacted by Boris Balkan (Frank Langella), an enormously wealthy man with the largest collection of tomes relating to devil worship. Balkan has recently acquired the rarest of them all, "The Nine Doors to the Kingdom of Darkness," supposedly written by Lucifer himself. Knowing there are two more copies in existence Balkan hires Corso to find out which one is authentic.

This sends the disbelieving Corso on a nightmarish odyssey and at every turn he leaves a number of bodies in his wake. Knowing he is the prime suspect in a string of murders Corso sets out to find the truth behind Balkan and the "Ninth Gate." Emmanuelle Seigner (in real life Mrs. Roman Polanski) appears as a mysterious stranger who protects Corso from the many forces marshalling against him, but is she heaven-sent or demon-spawn?

"The Ninth Gate" starts out as an intriguing film but falls flat at the conclusion. Depp puts everything into his sleazy role and even manages to elicit audience sympathy when events spiral beyond his control. However by film's end Corso exhibits his true colors and the character regresses further than when we first met him.

Polanski sneaks a couple of good frights in but overall the film is nowhere near as potent as say, "Rosemary's Baby," and its horrifying climax. The subject of satanic worship is always fascinating but too often films that deal with it have sensational buildup and an anticlimactic ending.

Artisan has served up a terrific DVD presentation of "The Ninth Gate." The widescreen transfer is sharp and clear with vivid colors. Director Polanski has provided an insightful audio commentary and there is an extremely brief featurette as well as a trailer. Storyboards and the drawings that supposedly illustrate "The Nine Doors" are included as well.
"The Ninth Gate," is ultimately a disappointing film that exhibits flashes of the old Polanski brilliance. The director seems more concerned with shock value than creating true suspense. Even his most lurid tales could be said to leave something to the imagination and create more of an aura of psychological terror. Not so "The Ninth Gate."