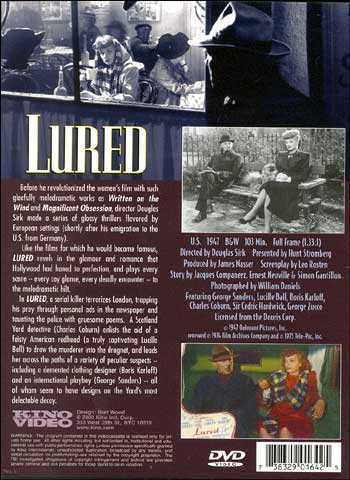 By Steve Vivona

$29.95, Interactive menus, scene access

Before becoming Universal's "house director" in the fifties, Douglas Sirk directed a number of intriguing thrillers and westerns. "Lured" is best remembered for an eclectic cast headlined by a pre-"I Love Lucy" Lucille Ball as a showgirl enlisted by the police to trap a serial killer.

Pretty young women are being murdered in London by a man who taunts the police with cryptic poems that precede his crimes. The police, led by Inspector Temple (Charles Coburn), are baffled, and can do nothing but wait for the next poem to arrive.

Sandra Carpenter (Ball) is tired of dancehall clubs and longs to make it as an actress. Her friend Lucy announces that she's met a man who will take her away from this dime-a-dance lifestyle and marry her. Sandra never sees her again.

At the same time Sandra receives an offer to audition for Robert Fleming (the ever suave George Sanders), a producer well known around London for being a ladies man. Sandra misses the appointment after being enlisted by the police to act as bait for the man terrorizing London.

The police set up several meetings for Sandra through the personal ads in the hopes the killer will surface. One such ad was placed by Charles van Druten (Boris Karloff, in a terrific cameo), a demented clothing designer driven insane years ago after a rival stole a design and made millions.
Sandra's meeting with van Druten was engineered by the police to see if she could "take the heat," and when it appears van Druten will murder her she's saved by a cockney flatfoot named Barrett (George Zucco). It's nice to see Zucco in a sympathetic role for once and in a production worthy of his talents.

In the course of her duties for the police Sandra again encounters Fleming, a man not easily dissuaded. Used to having women swoon at his feet Fleming is envigorated by the fiery American redhead who refuses his advances. When Sandra takes a job as a housemaid for a possible suspect she again encounters Fleming at a dinner party. He saves her from a man who deals in selling women into slavery in South America, and the two fall in love.

Sandra tells the police she's through working undercover and plans to marry Fleming. On the eve of their engagement party she finds evidence that her future husband might be the man she's been looking for, but is he?

"Lured" benefits from an outstanding cast of character actors that also includes Sir Cedric Hardwicke as Fleming's business partner and Alan Napier as Temple's right-hand man. It's hard to get the image of Lucy Ricardo out of one's head, but once that's done one can see Ball's talent exceeded far beyond comedy. Here she plays a strong-willed American girl awash in a sea of stuffy British police and possible murder suspects. Her character is a spitfire with a barbed tongue who can hold her own.

Sanders is effective as always as the debonair lady-killer (?) who always gets his woman. Sanders could easily have turned in a one-note performance here but he portrays Fleming as a mult-layered character with a few surprises of his own.

Sirk's direction is tight and effective especially when it comes to creating a mood of suspense. Here he uses his dimly-lit sets to their fullest letting shadows reign.
Kino should be commended for bringing films to DVD that might not ever see the light of day on the format. It's unfortunate the major studios are allowing much of their older titles languish while releasing more recent ones of much lesser quality.

The quality on "Lured" is better than expected. Although rough in a very few spots the quality of the print is fantastic. The black and white image is strong and sharp with no haze. The audio quality is also a nice surprise with very few pops and crackles on the soundtrack, and no background hiss.

Companies like Kino, Image and Anchor Bay need encouragement to keep releasing these "forgotten" titles on DVD because the majors just don't seem interested!