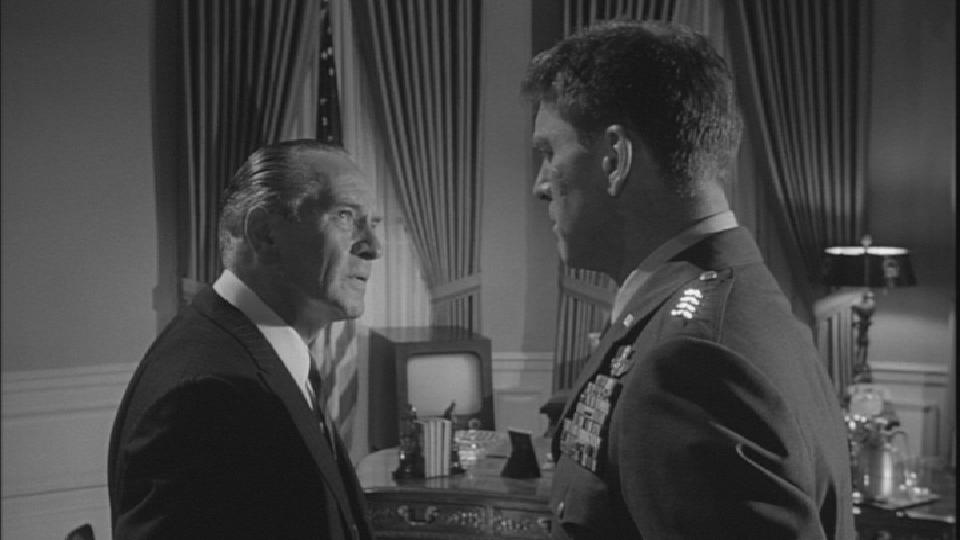 By Steve Vivona

Warner, $24.95, Widescreen

Hot on the heels of "The Manchurian Candidate," one of the most gripping political thrillers of its day, director John Frankenheimer managed to top himself with a film that is widely regarded as the best political thriller ever made. "Seven Days in May," based on the novel by Fletcher Knebel, told the story of an attempted coup of the U.S. government by members of the president's own joint chiefs of staff.

The film version capitalized on the political climate of the time. In 1964 nuclear war was still a real threat, and in the wake of JFK's assassination many civilians and military men thought an attack by Russia was inevitable. Frankenheimer's previous film, "The Manchurian Candidate," was pulled from circulation for over 20 years because its plot dealing with political assassination and Communist overthrow hit too close to home.

The hawks and the doves were never more polarized than in the 1960s as Vietnam loomed and Lyndon Johnson was determined to stop the advance of Communism. "Seven Days in May" is a chilling "what if?" story that was probably not totally beyond the realm of possibility at that time.

General James Matoon Scott (Burt Lancaster) is disgusted with the weak-willed policies of President Jordan Lyman (Frederic March), an avowed pacifist. The last straw comes when Lyman announces his intention to sign a peace treaty with the Russians that will cripple the U.S.'s offensive nuclear capability.

As Lyman's popularity wanes Scott decides it is time to act and he hatches an elaborate plot to overthrow the government with several like-minded soldiers and politicians. This plot comes to the attention of Col. Martin Casey (Kirk Douglas), Scott's assistant. Casey admires Scott and while he disagrees with Lyman's policies he will not be party to treason.

Casey brings news of the plot to the president who asks him to act as a sort of double agent against Scott, and use any means necessary to bring him down. That includes romancing Scott's boozy former mistress Ellie Holbrook (Ava Gardner). Casey hates being a party to bringing down his hero but his allegiance to his duty is stronger.

"Seven Days in May" is one of the most exquisitely-crafted thrillers I've ever seen. The dialogue crackles with intensity, especially in the scenes where Scott squares off with the president and Casey. In his prime Frankenheimer was second to none with this kind of film. He knew exactly how to draw the audience in and keep them on the edge of their seats.

The film is the pinnacle of the collaborations between Lancaster and Douglas (they appeared in five films together). Lancaster is brilliant as Scott, a zealous patriot with a penchant for megalomania. Of all the old-timers Lancaster is perhaps my favorite. He could slip into any role, and whether it called for unbridled exuberance ("Elmer Gantry") or a subtle low-key performance ("Judgment at Nuremberg") he was able to deliver. Here he is at the height of his craft and his performance is positively chilling.

Not to be outdone are Kirk Douglas and Frederic March in roles of equal intensity. Douglas had such a natural chemistry with Lancaster that it didn't matter whether they were playing adversaries or allies. Their scenes together are a pleasure to watch. Douglas's brooding intensity was a natural counterpoint to Lancaster's animated ranting.

Frederic March was a brilliant actor in his own right and he successfully portrays the anguish of a president whose policies are reviled. In the end he is a hero and a patriot and his love for his country informs every decision he makes.

Warner's DVD of "Seven Days in May" gets the treatment it deserves. The transfer is crisp and the black and white image is sharp. It is letterboxed at a 1.85: 1 aspect ratio and is framed well. Included is an excellent audio commentary from Frankenheimer who really sheds light on the production and many of the players who have since died. A trailer has also been included.