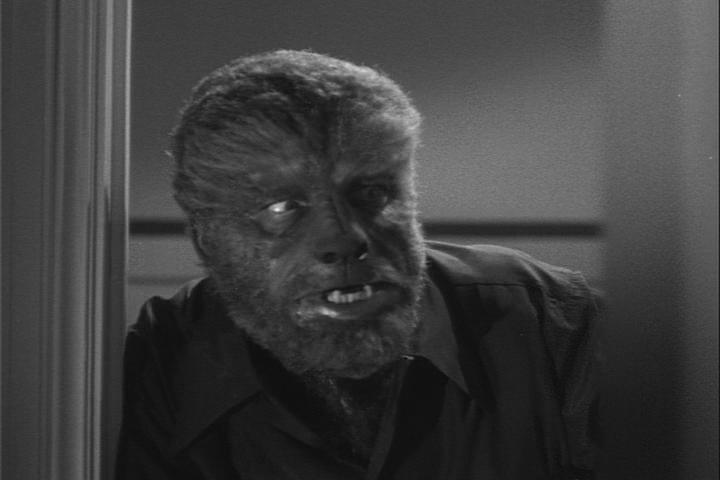 Lon Chaney Jr. as The Wolf Man

By Steve Vivona

Universal Home Video, $29.95, Standard
Release date: 8/29/00

As the great horror cycle of the 1940s ended it looked as though the classic monsters had breathed their last. After two "monster rallys" that sandwiched as many monsters in one film as possible, Universal decided it was time to explore new horrors as the atomic age dawned.

At the same time the popularity of America's favorite comedy team, Bud Abbott and Lou Costello, was on the wane. After cranking out over 20 films since 1941 (including many great wartime comedies) Bud and Lou needed a shot in the arm.

Thus it was decided to pair Universal's two greatest franchises. Although the duo resisted at first it turned out to be the smartest move of their careers, and ensured their longevity well into the fifties.

Freight handlers Chick Young (Abbott) and Wilbur Grey (Costello) have their worlds turned upside down when crates containing the actual remains of Dracula (the incomparable Bela Lugosi) and the Frankenstein Monster (Glenn Strange) arrive to be shipped to a local house of horrors. As the boys unload their cargo Dracula rises from his coffin taking the Monster with him. Of course only Wilbur witnesses this. Dracula hypnotizes Wilbur and commands him to forget. As he lies in his hypnotic state the Monster sees him and gasps in horror!

The beleaguered Lawrence Talbot, AKA The Wolf Man, (Lon Chaney Jr.) arrives from London in an attempt to thwart Dracula's insidious plan of transplanting a pliable human brain into the Monster, and enlists the boys to help him.

Little does Wilbur know his beautiful girlfriend Dr. Sandra Mornay (Lenore Aubert) has designs on more than his body, and is in reality a slave of Dracula. They decide that Wilbur's simple brain would be perfect for the Monster.

Wilbur constantly annoys the disbelieveing Chick with all his monster sightings, but soon Chick realizes the monsters are among them and they must help Talbot in his quest to destroy Dracula and his lumbering servant!

"Abbott and Costello Meet Frankenstein" is a unique blend of horror and comedy that never cheapens the classic monsters. In fact, with few exceptions, they play it straight throughout the whole film. The comedy is left to the masters, whose reactions to the fantastic goings-on, are priceless. Lou's reaction to Dracula rising from his coffin or when he sits on the Monster's lap in Dracula's dungeon are terrific moments.

Lugosi is in perfect form playing the Count for the first time in 17 years. It's unbelievable that he was on the bottom of Universal's list behind actors Ian Keith (who competed with him for the role in 1931) and John Carradine. Lon Chaney Jr. was playing Lawrence Talbot for the fifth time and by now had his sad-sack persona down pat. It's interesting to note his make-up was created by Bud Westmore, replacing the recently-fired Jack Pierce. Rather than yak hair his mask was one of foam rubber -- easier on Chaney but not as impressive.

Glenn Strange had more to do and more screen time than his previous appearances as the Monster in "House of Frankenstein" and "House of Dracula" but essentially his performance is the same. His craggy features were an asset to the Monster's appearance and he looked better in the role than Chaney or Lugosi.

Bud and Lou are in rare form and this film is an example of their amazing talent. Watching Lou flee in terror is worth the price of admission. Personally my favorite moment is during the final chase through the mansion. As the Monster lumbers after them Lou yanks a tablecloth off a bureau and the silverware is undisturbed. Impressed with himself, he directs the audience to marvel at his accomplishment. It's a great little moment.

Universal has served up a DVD presentation that befits this film's classic status. While not an official part of their "Classic Monsters" series this entry falls under "Comedy Legends" but that's just semantics. This year Universal has released "The Invisible Man," "The Phantom of the Opera," (1943), and "Creature From the Black Lagoon," as part of the "Classic Monster Series," (all will be reviewed soon). It's hard not to put this film in that category because it represents the end of the Classic Monster cycle at Universal despite its status as a comedy.

The black-and-white transfer is crisp and clear, and one of Universal's best transfers since the original "Frankenstein." The print is in terrific shape and it's safe to say this is the best the film has ever looked.

The supplements are a real treat. Some of the commentaries on the classic releases have been a little dry, but this one by Frankenstein expert and author of "It's Alive!" the definitive history of Universal's Frankenstein series, Greg Mank, is indespensible. Mank gives an exhaustive production history and relates personal anecdotes from members of the crew that he interviewed. His comments are never dry or dull and only enhance the enjoyment of the film.

The 33-minute documentary, "Abbott and Costello Meet the Monsters" details the rise and fall of Universal's Monsters and the history of America's best loved comedy team, and how they collided in 1948. The participants (including Lou Costello's daughter Chris and Bela Lugosi Jr.) all shed light on the complex personalities involved in this film and it really is a delight. Also included are rare outtakes which show Costello breaking up Glenn Strange and the pair playing a practical joke on Lugosi, who does not seem amused.

Rounding out the supplements are an extensive photo gallery, production notes and a re-release theatrical trailer.

This DVD simply is a must-have for any devotee of classic horror or classic comedy.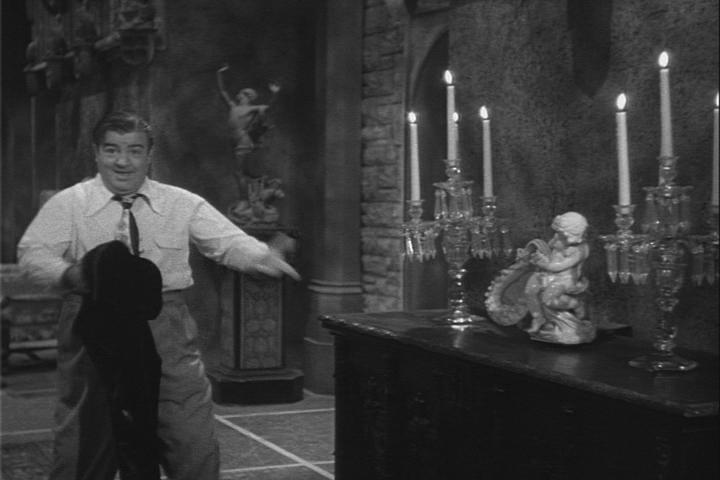 Lou's proud of himself.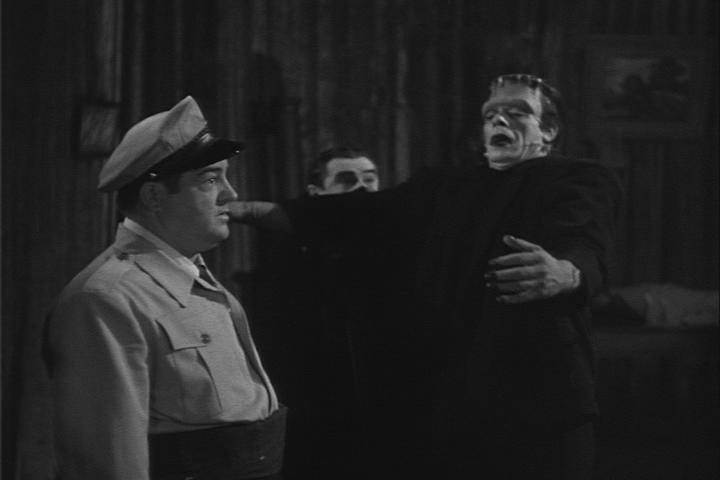 Lou gives The Monster a fright!