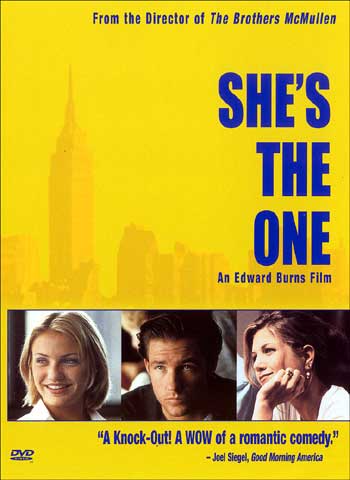 By Steve Vivona

Long Island native Ed Burns taught all independent filmmakers a lesson with his breakthrough hit, "The Brothers McMullen," and that lesson is, write what you know. Burns, a twentysomething Irish Catholic from the Long Island suburb of Valley Stream, crafted a tale that was partially based on his own experiences growing up in suburbia.

"The Brothers McMullen" follows three brothers as they wrestle with their various relationships. None of them seem to have a good handle on the opposite sex, thanks to their now-deceased alcoholic father. The film follows each brother on his quest for fulfillment and paints a humorous and touching portrait of a typical Irish Catholic family.

Jack (Jack Mulcahy), the oldest and supposedly most grounded of the three, is lured into a smoldering affair. Patrick (Mike McGlone) is not sure his fiancee is really "the one" and finds himself drawn to an old neighborhood crush, and cynic Barry (Burns) refuses to allow himself to fall in love, even when he meets his perfect woman.

As Burns relates in his excellent commentary the film was made for a meager $25,000. After being shopped around endlessly it was finally picked up by Robert Redford's prestigious Sundance Film Festival where it promptly won Best Picture.

Despite the film's low-budget feel (which is part of its charm) the characters are beautifully drawn and the story is engaging enough that you forget the trappings that surround it. Burns drew on his own experiences and he obviously has an affinity for all the characters.

"McMullen" proved to be an extraordinary moneymaker for Fox Searchlight Pictures and they wanted to be in on Burns' next feature. He already had a script in hand for "She's the One," which was another character study of an Irish Catholic family, this one with only two brothers.

"She's the One," despite its' big name cast and manicured Hollywood look, was still a low-budget film (by Tinseltown standards), and again it relies on a strong script with three-dimensional characters. "She's the One" is not nearly as endearing as "McMullen," but it contains the same dry sense of humor and easygoing style.

In this film Burns and McGlone play Mickey and Francis Fitzpatrick, two brothers who have absolutely nothing in common, except for one thing. Francis, who is married, is having an affair with Heather (Cameron Diaz), Barry's ex-fiancee. Francis' wife Renee (Jennifer Anniston) is bewildered by his lack of interest in her and begins to suspect he is gay.

Barry is having a difficult time getting his life together and supports himself by driving a cab. He impulsively marries Hope (Maxine Bahns) a girl he picks up as a fare, causing his father (ever reliable John Mahoney) to believe he's gone off the deep end. Soon after Heather lands in his cab and then the sparks really fly!

"She's the One" is a bit contrived, something Burns readily admits in his commentary, but it is still a much more sincere effort than most of the romantic comedy drivel churned out by the majors.

Having seen both films I skipped right to the commentaries, which were excellent. Burns is a one-man film school, and he provides tremendous insight into the world of low-budget filmmaking as well as into his own personal story. For any budding young filmmakers these commentaries are a must.

The transfers for both films are very well done. Fox has really worked overtime to give "McMullen" the best possible transfer and any shortcomings are the fault of the source material. It's extremely grainy but that is to be expected. The transfer for "She's the One" is flawless with strong colors and a very sharp image with no pixelation.

In addition to the commentaries both films contain the original trailers. "She's the One" also has a production featurette and music video. Also available from Fox is Burns' third effort, "No Looking Back."