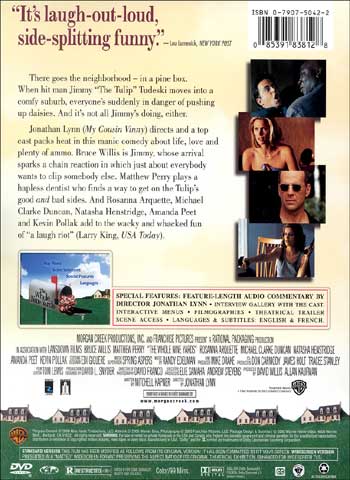 By Steve Vivona

Nicholas "Oz" Oseransky (Matthew Perry) is miserable. He's married to a shrew named Sophie (Rosanna Arquette). His mother-in-law (who lives with them) is a harpy and he's mired in debt.

Enter Jimmy "The Tulip" Tudeski (Bruce Willis). Jimmy, a notorious hitman who has changed his identity, moves in next door to Oz, complicating his life even further. The two become fast friends despite Oz's trepidation about Jimmy's line of work.

When Sophie realizes who Jimmy is she immediately sends Oz to Chicago to rat him out to his former mob cronies, in the hopes of nabbing a "finder's fee." Once there Oz meets Jimmy's ex-wife Cynthia (Natasha Henstridge) and immediately falls for her. Yanni Gogalack (a hilarious Kevin Pollack) wants Jimmy dead and he sends Oz back to set a trap for him. From there the double crosses mount and not everyone is who they seem to be in this hilarious farce.

Bruce Willis has always proven adept at comedy, but since his "Moonlighting" days he hasn't had the right material to display his talents. We're so used to his action hero persona audiences forget he's got great comedic timing. But in this case it is Matthew Perry who steals the show with a hilariously befuddled performance. Oz is the ultimate pawn in this affair and everytime he thinks he knows what's going on, and whose side everybody is on he's proven completely wrong. The film is worth it for Perry's facial expressions and physical comedy alone.

Also worth mentioning is the terrific supporting cast that includes Michael Clarke Duncan (Willis' "Armageddon" castmate), Pollack, and Henstridge. All the principals really shine and each has their own set of comedic gifts.

Warner's DVD presentation of "The Whole Nine Yards" doesn't disappoint. The image is sharp and the colors are stable on both the widescreen and standard versions. The DVD includes an audio commentary from director Jonathan Lynn, interviews with the cast and crew, a trailer and gag reel. Again Warner succeeds in giving us more value for the buck with their supplements.