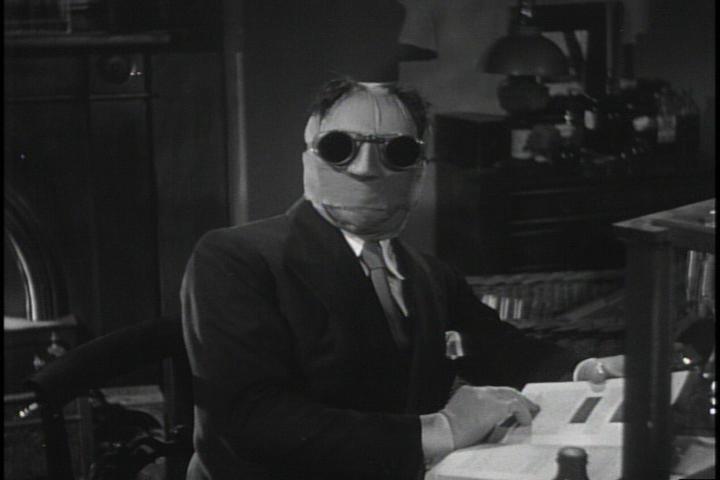 Dr. Griffin with bandages...
..and without!
By Steve Vivona

Universal, $29.95, Extras

Flushed with the successes of "Dracula," "Frankenstein," and "The Mummy," Universal Studios was eager to add another frightful character to their growing horror stable. They also wanted director James Whale to craft another fantastic tale for them, as he had with "Frankenstein," and "The Old Dark House."

Originally the studio wanted Whale to craft a sequel to "Frankenstein," something he had no interest in. To draw their minds away from that project he suggested H.G. Welles' "The Invisible Man." Universal immediately agreed and secured the rights from Welles in the hopes of having another vehicle for their "King of Horror," Boris Karloff.

Originally set to star in "The Invisible Man," Karloff abandoned the project in a salary dispute. Whale found his new leading man in a little known British stage actor named Claude Rains. Whale needed someone with a distinctive voice, someone who could emote covered in bandages or with no visage at all.

Rains was perfect for the role of Dr. Jack Griffin, a man driven to insanity when he tests an invisibility formula on himself. At first Griffin seeks to cure his affliction but soon he degenerates into madness, and sets about a maniacal reign of terror on the English countryside.

Just as Karloff succeeded in crafting a masterful performance beneath layers of makeup in "Frankenstein," Rains turns in a brilliant, multi-layered performance with his features completely hidden.

In fact it seems with his features completely obscured Rains lets loose with maniacal glee, something he rarely did throughout his career. Known for strong measured performances in classic films like "Casablanca," Rains could best be described as stoic, but not here. Rains revels in Griffin's megalomania, and his performance was a blueprint for the many sequels to come.

There is no mistaking the hand behind this horror classic. James Whale's fingerprints are all over this film. The gallows humor that permeated "The Old Dark House," and that reached its zenith with "Bride of Frankenstein" is definitely on display here.

Whale also peppered the cast with a stable of his old favorites including the shreiking Una O'Connor and E.E. Clive, both "Frankenstein" veterans past and future. Whale revels in the reactions of the townpeople to Griffin's wave of terror.

As a classic horror fan I devour Universal's collectible DVD's. "The Invisible Man" contains a terrific documentary that details the history of the production (although why Gloria Stuart was not included seems to me a glaring oversight). Much of the documentary showcases the pioneering special effects work of John P. Fulton, who crafted the (still) dazzling "invisible" effects. Claude Rains' daughter is also interviewed and she shares some funny anecdotes about her father.

There's also an informative audio commentary by film historian Rudy Behlmer (who hosts the documentary as well), and he discusses all the film's players and its production history in detail.

My only gripe is the source material used for the DVD. While its undeniably the best "The Invisible Man" has ever looked, its obvious the original negative is in dire need of restoration. Any scene with invisible effects is in worse condition than the rest of the film. There are a number of pops and crackles of the soundtrack but nothing to hamper the enjoyment of the film.

These "Classic Horror" DVD's are a collector's dream come true and while Universal has exhausted the majority of the true classics I hope the lesser films in the canon get equal treatment.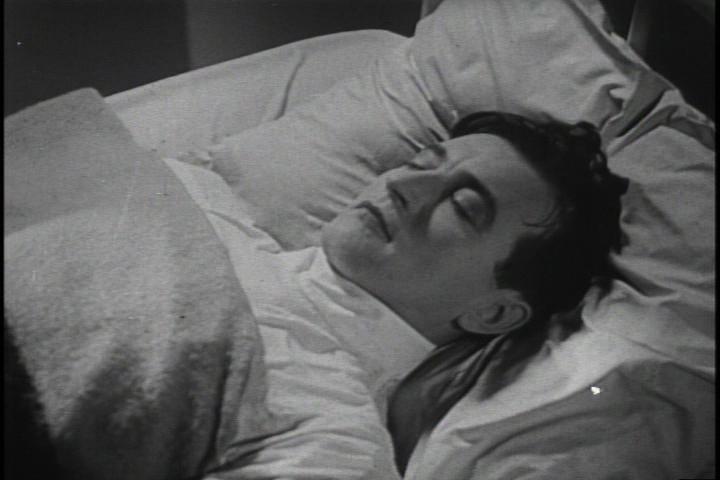 The only time we see Griffin's face is in death.