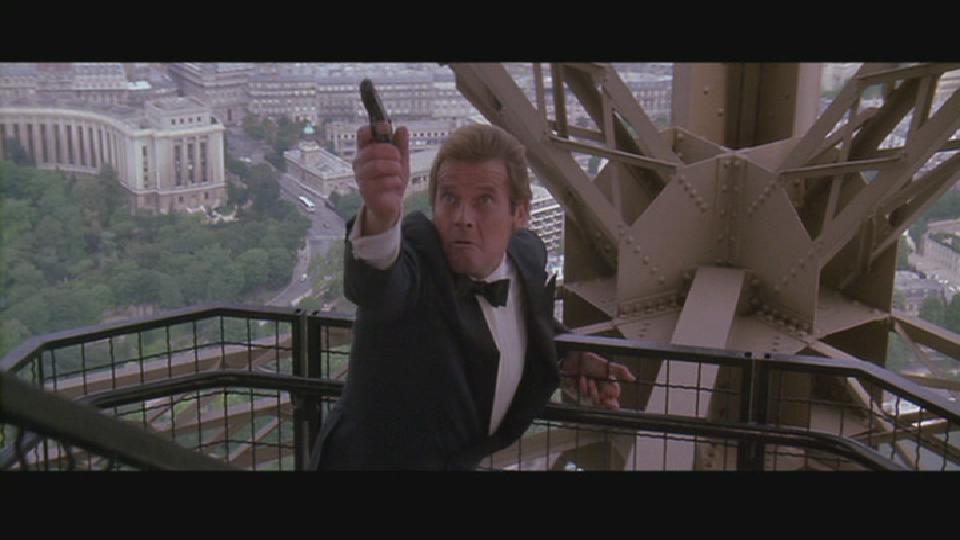 By Steve Vivona

MGM/UA, Widescreen

Roger Moore announced his retirement from the role of James Bond after the release of "Octopussy," but producer Albert Cubby Broccoli was able to lure him back to the role one last time for "A View to a Kill." By this time Moore admitted he was a bit "long in the tooth" for the role of 007 (he was about 55 at the time), but his loyalty to Cubby was all the reason he needed.

"A View to a Kill" is widely regarded as the weakest entry in the series, but having reviewed it for the first time in many years, I can say that I was happily surprised. I always preferred Sean Connery's take on Bond, and the emphasis on humor when Moore took over the role never sat too well with me. I loved "For Your Eyes Only" because Moores performance in that film proved he was capable of doing a serious Bond. It seemed (to me anyway) that after that film he retained a bit of that sense of menace required for Bond.

Millionaire industrialist Max Zorin (Christopher Walken) intends to corner the microchip market by destroying Silicon Valley. MI6 believes that he is selling top-secret information about their microchips to the Soviets and they put Bond on the case. He infiltrates Zorins palatial mansion posing as a potential buyer for some of Zorin's "specially-bred" horses.

Bond is discovered and narrowly escapes a clever assassination attempt from Zorin's leading lady, May Day (Grace Jones). He joins forces with Stacey Sutton (Tanya Roberts), a geologist who Zorin is blackmailing into selling him her fathers company. Together they uncover Zorin's insidious plot which entails blowing up the San Andreas fault and causing a catastrophic earthquake. Will Bond be in time?

While it may not go down in history as a classic Bond film, "A View to a Kill" has many things going for it. As Zorin, Walken makes a great Bond villain. Like most of Walken's villainous characterizations this is a quiet man who can fly off the handle at any second. He's a megalomaniac who will sacrifice anyone to achieve his goals (the hallmark of any true Bond villain).

Again there are some terrific stunts and chases, the most impressive of which is May Day's leap off the Eiffel Tower and the subsequent chase through Paris. The pre-credits ski chase is also impressive but I could have done without the Beach Boys' "California Girls" being played over it (to me that represents all that was wrong with the series at this time).

Moore does look a little old for the role but he delivers a solid performance knowing that this will be his swan song. His version of Bond always seemed to be winking at the audience and never taking the proceedings too seriously. I've grown to respect his portrayal of Bond because I can see he wanted to put his own personal stamp on the role and not imitate what Connery did so well.

Desmond Llewelyn returned in this film as the ever-reliable Q. However this film marked Lois Maxwells final appearance as Moneypenny.

This film is part of MGM's third and final wave of impressive Bond special editions. Put simply these DVDs are a Bond fan's dream and "A View to a Kill" is no exception. Firstly, the film has received a gorgeous widescreen transfer with lush colors and a vivid image. The remastered dolby digital sound really packs a punch.

For me the real goodies are the supplements. The disc includes the requisite documentary which includes interviews with several cast members and production staff. These documentaries go over every aspect of the making of a Bond film in exhaustive detail, and there's always some great rare footage to be found.

The DVD also features a great documentary on the Bond composers and features interviews with the likes of John Barry, Monty Norman and Michael Kamen. Also spotlighted are the many vocalists who belted out the classic Bond songs.

Happily MGM has started including deleted scenes as part of the supplements and here we have a brief scene of Bond being bailed out at a Paris police station after the chase from the Eiffel Tower. An audio commentary with director John Glen and several crew members is present on the DVD as well (it is not a screen-specific commentary).

Duran Duran's video for the title song is featured (many consider it the best of the Bond songs) as well as several trailers and TV spots. An 8-page booklet has been packaged with the disc.

I'm almost sorry there are no more Bond titles coming from MGM (at least until Pierce Brosnan makes another film) These special editions have been a stellar example of the capabilities of this format, and they are highly recommended!