By Steve Vivona

MGM, $19.95, Widescreen and Fullscreen

Rodney Dangerfield followed up the hugely successful "Caddyshack" with this solo effort in 1983. In "Easy Money" Rodney plays Monty Capuletti, a debauched baby photographer who by his own admission, eats too much, drinks too much, smokes too much and gambles too much.

Monty's rich shrew of a mother-in-law Kathleen Monahan (Geraldine Fitzgerald) wants nothing more than to tame his wild ways. When she supposedly dies in a plane crash she leaves her enormous fortune to Monty and his family. However a codicil in her will states that Monty must reform his wayward ways within one year or the money is forfeit.

Joe Pesci stars as Monty's best friend Nicky, a hot-tempered little guy who preaches restraint to Monty while he drinks beer, eats hot dogs and smokes one cigarette after another in front of him.

It's a difficult year for Monty as outside pressures such as his daughter's marriage to a Latino hood ("Can I call you Dad now?") and the stress of curbing his hedonistic ways drive him to the breaking point. The last straw comes when his mother-in-law's nephew (Jeffrey Jones) devises a scheme to drive Monty over the edge with a clothing line devoted to Monty's "regular guy" look that is laughed off the stage during its premiere. Will Monty make it?

"Easy Money" is Rodney's best film outside of the classic "Caddyshack," which was more of an ensemble piece. In this R-rated climate he's free to be pure Rodney and the constraints of the more desirable PG-13 rating drove the level of hilarity in his subsequent films down considerably.

MGM's DVD of "Easy Money" is a solid presentation. Not exactly the film you use to demonstrate your home theater the transfer is fine with a clear image and solid colors. Either presentation works for the film as the letterboxing adds no picture information. A theatrical trailer with a scene cut from the final film has been included.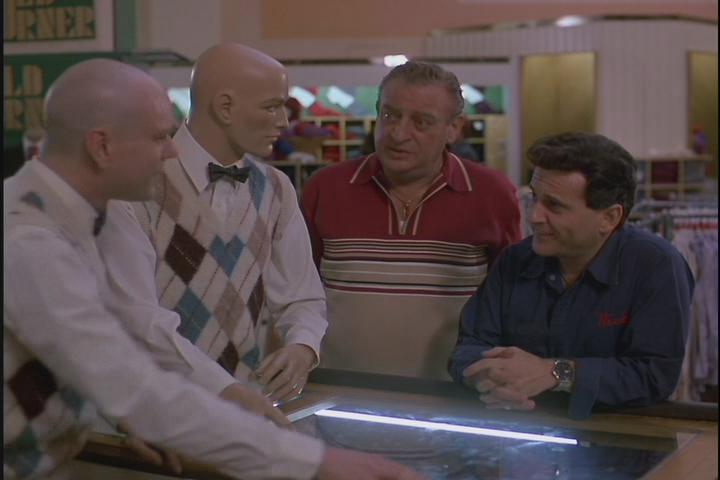 Monty and Nicky go shopping.