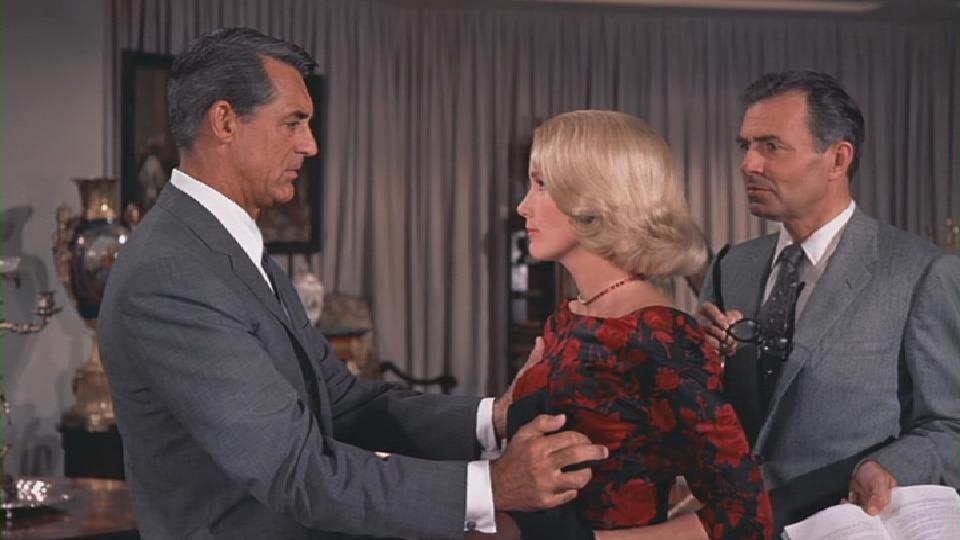 By Steve Vivona

Warner, $19.95, Widescreen


Cary Grant's later career was marked by lightweight romantic comedies, but thanks to his association with director Alfred Hitchcock, he still had one classic left in him. The two previosuly collaborated on "Suspicion," "Notorious," and "To Catch a Thief," all of which benefited immensely from Grants unflappable sophisticated persona. "North by Northwest" is no exception. Here Grant plays Roger Thornhill, a Madison Avenue advertising executive mistaken for a spy and chased halfway across the country.

Hitchcock concocted the film with writer Ernest Lehmann after they couldn't come up with a script for "The Wreck of the Mary Deare" for MGM. That film was eventually made by other hands (it seemed an odd choice for Hitchcock), leaving Hitch to craft what many considered to be his best film.

Roger Thornhill is a typical 1950s urban sophisticate. As he states later in the film he has two ex-wives, a mother and several bartenders who depend on him. His life is one of plays and parties. A classic male chauvinist, Thornhill's only steady female companion is his mother.

Like many of the best Hitchcock thrillers "North by Northwest" revolves around a case of mistaken identity. While dining at an exclusive club Thornhill is mistaken by two thugs for George Kaplan, a mystery man supposedly working for the U.S. government. He is taken against his will to the Long Island mansion of Philip Vandamm (James Mason). Believing Thornhill is Kaplan Vandamm begins outlining an assassination he wants Kaplan to carry out.

Thornhill is bemused but Vandamm believes he is only being cagey. Thornhill refuses to carry out his plot and Vandamm tries to kill him instead. After a narrow escape Thornhill tries to convince the police of what happened, but there is no evidence to support his wild story. He tracks Vandamm to the United Nations but the man he meets there is not the same man who nearly killed him the previous evening. In typical Hitchcock fashion the delegate is killed and Thornhill is left holding the knife.

From there the film becomes an intricate game of cat and mouse filled with narrow escapes and nothing is as it seems. Thornhill escapes to a Chicago-bound train where he meets Eve Kendall (Eva Marie Saint). Eve helps Roger evade the police who are hot on his heels, despite the fact she knows he is the prime suspect in a high-profile murder. It seems she wants to help Roger for no other reason than she is attracted to him, but nothing is as it seems in a Hitchcock film.

It's hard to say with any certainty or authority what the best Hitchcock film is when there are so many to choose from. However "North by Northwest" gets my vote. It's one of those rare films where everything falls into place beautifully. The script is sharp and the dialogue crisp and witty and delivered with the requisite panache from Grant and his co-stars.

All the actors are perfectly suited for their roles. It's easy to envision "North by Northwest" as something of a precursor to a James Bond film. It's no secret Bond was partially based on Grant, and James Mason would've made the quintessential Bond villain with his clipped manner and ominous presence.

Eva Marie Saint had played nothing but wholesome characters in her previous films but Hitch saw the possibilities in her and cast her despite studio objections. She gives a devastating performance as the overtly sexual temptress who captivates Roger like no other woman has.

Also worth mentioning is a young Martin Landau in his first film role playing Leonard, Vandamm's right-hand man. Just as the film was breaking many sexual taboos with the double-entendre laced dialogue between Grant and Saint it took a step further by implying Leonard is gay and has feelings for his employer.

The two-hour plus running time may sound too much, but Hitchcock was a master of pacing and he never lets the audience breathe, much less time to get bored. Bernard Herrmann's score enhances the action and brings the film to another level. The sets and the matte paintings, especially for the film's climactic chase on the face of Mt. Rushmore, are masterworks and ahead of their time. They bring the film a heightened sense of realism that few films of its era had (including the James Bond films). Even the use of rear-screen projection isn't the dead giveaway it usually is.

Warner has pulled out all the stops for this DVD, and has given the film a beautiful new widescreen transfer with strong vibrant colors and a razor-sharp image that has no noticeable grain. Also included is a full-length audio commentary from Ernest Lehmann which sheds light on his relationship with Hitch as well as the creation of this classic film.

A wonderful new 40-minute documentary has been produced exclusively for this DVD. Hosted by Eva Marie Sanit it includes interviews with Lehmann, Martin Landau, Patricia Hitchcock and production designer Robert Boyle. The documentary provides a keen insight into the creation of North by Northwest and details its production from its inception to its reception. Also included are two theatrical trailers, one hosted by Hitchcock himself.