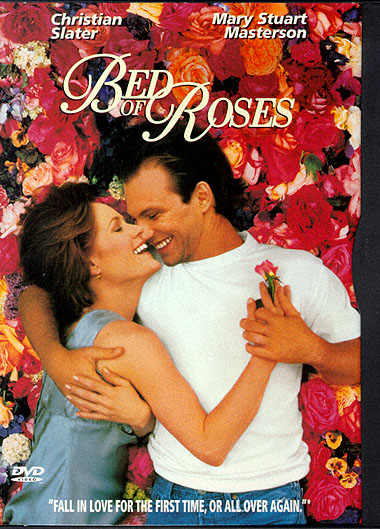 By Ray Schwetz

Christian Slater has had his career ups and downs. His last high profile vehicle, "Hard Rain," was a critical and box office failure despite the combined star power of himself, Minnie Driver, and Morgan Freeman. Hopefully, Mr. Slater will find a comeback vehicle that will erase some of the recent bad press from memory and restore his integrity as an actor.

In "Heathers", he proved that he could act. "Pump Up the Volume" and "Bed of Roses" are primary examples of Slater's star power. "Pump" is my favorite of the two films. While the film seems a bit dated (and the whole "talk hard" thing seems kind of gay), it is still quite entertaining.

Slater is in his element as a shy high school student by day and a "mad as Hell and he's not gonna take it anymore" DJ by night. As DJ Happy Harry Hard On he talks harder, the high school kids begin to rebel against their corrupt high school principal. Before long, everyone including the FCC is after our hero. Fetching Samantha Mathis is wonderful as Harry?use/love interest and Ellen Greene ("Little Shop of Horrors" 1986) is effective as a teacher who begins to champion Harry's cause.

"Pump" is not perfect, but it has great performances, a fun retro soundtrack, and it champions freedom of speech. "Bed of Roses" is your basic formula romance film. But, and I'm sure the ladies would agree, if it works there's no need to fix it. The success of a romance film depends strictly on the chemistry between the lead actors, and Slater and Mary Stuart Masterson ("Some Kind of Wonderful", "Benny and Joon") provide the necessary ingredients. The film is as sappy as they come, but it has a refreshing sense of humor, wonderful supporting characters (especially Pamela Segall, as Masterson's best friend), and is nicely paced by writer/director Michael Goldenberg. As a plus, it's one of the few films where the guy doesn't make a total ass of himself for 90% of the picture. Also, the film has a fun pop tunes (Sarah MacLaughlin's "Ice Cream") and creative score by Micheal Convertino.

Both DVDs are available from New Line Home Video. If you hurry down to the Wiz, I was able to pick up both of these titles for $9.95 each! The video presentations of "Pump" and "Bed of Roses" are both very good. "Pump" seems a little darker than I remember, but the colors are vibrant and the picture is sharp. The film is presented in a matted version (which only blocks off information on the top and bottom) and a flat version. There are no noticeable compression artifacts. The new 5.1 audio for "Pump" is very good, although there's only a few rear channel effects (although New Line gets points because one of them is a sound of flatulence!). "Bed of Roses" also has a new 5.1 mix, which sounds slightly better (perhaps due to the age of the source), however rear and bass are almost non-existent (except when the music swells).

On "Pump" you also get the theatrical trailer, which is in good shape. "Bed of Roses" has gotten a slightly better treatment in the extras department. Included are the theatrical trailer and a music video for the song "Insensitive." If you're a Slater fan, these DVDs are definitely worth the low price tag.