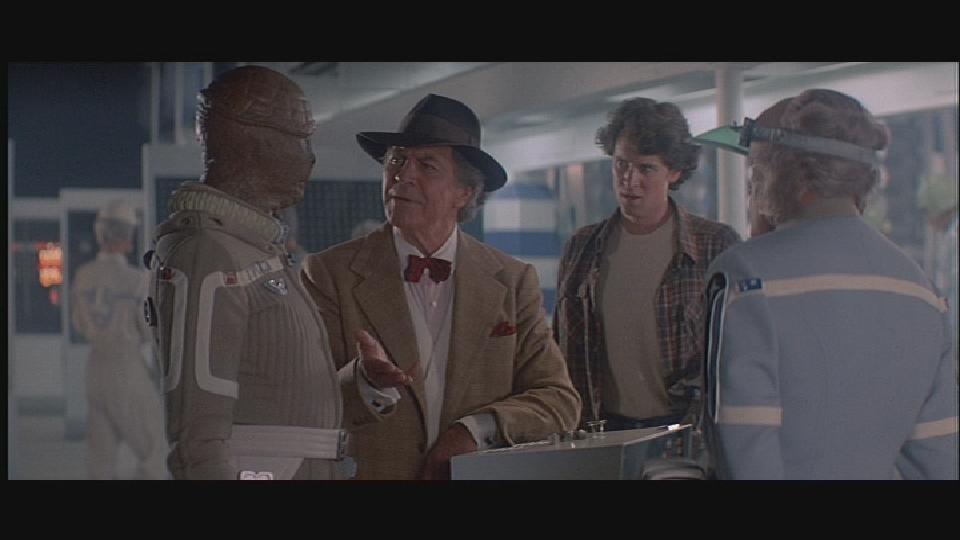 By Steve Vivona

Universal, $34.95, Widescreen

"The Last Starfighter" quietly came and went in the summer of 1984 amidst a crush of films that included "Indiana Jones and the Temple of Doom," "Star Trek III" and "Ghostbusters." Depsite being a heartwarming adventure it received scant notice at the box office, but now Universal has validated its importance and enduring popularity with an excellent DVD special edition.

"The Last Starfighter" is best remembered as the first live-action film to depend heavily on computer-generated special effects. Primitive by today's standards this film pioneered the use of CGI and paved the way for films like "The Abyss," "T2" and "Jurassic Park" to expand the boundaries of this new technology.

Beyond its historical importance "The Last Starfighter" is just a really fun movie with likeable characters and strong acting. Lance Guest stars as Alex Rogan, a young man looking to escape his mundane trailer park existence. He desperately wants to go to college and see the world while his friends content themselves to drink beer and hang out at the beach. Alex wants his girlfriend Maggie (Catherine Mary Stewart) to come with him but she is torn between her comfortable existence and her feelings for him.

Video games were sweeping the nation in 1984. Arcade games and home video game systems were a staple in every kid's life at that time. Not much has changed but this was a new phenomenon then, and the producers grabbed on to that as their hook for this film. Alex is a master at the Starfighter video game and it seems his excellent playing skills have caught the attention of an otherworldly audience.

He is contacted by Centauri (Robert Preston is his final role), an alien flim-flam man who recruits Alex to help defend the planet Rylos from the evil Kodan Armada. Flabbergasted, Alex initially refuses the invitation to be a real Starfighter, but he soon realizes the impossible odds they're up against and agrees to help.

Alex is partnered with Grig (the great Dan O'Herlihy) a kindly lizard-like being who lives for impossible missions and longs to defeat the Kodan in a glorious battle. After a Kodan sneak attack all the Rylosian pilots are killed and it's up to Alex and Grig to defend the frontier or eventually earth itself will be threatened by the Kodan.

I never tire of "The Last Starfighter." It's a rousing adventure with a lot of heart. It draws the audience in with well-drawn characters and a familiar story. Guest is an extremely likeable performer and his portrayal of Alex reminds me of George Bailey, a good, decent young man drawn to helping people, often to his own detriment.

Old pros Preston and O'Herlihy really add class to the proceedings. Preston is essentially doing the Music Man as an alien, but he slings the manure just as effectively as he did in that film. Completely encased in makeup O'Herlihy (who younger audiences would remember as the CEO in the "Robocop" films) is delightful as the ebullient Grig, an older, wiser mentor for Alex, who teaches him the importance of looking outside himself and following his destiny.

It's obvious the effects in the film are computer-generated, but for me that only adds to the charm.

Universal's DVD has brought a new level of enjoyment for this film to me. Most importantly it's making its widescreen debut..finally! This film was in desperate need of a widescreen remaster and looking at it here is a revealtion!

Recognizing the film's place in the history of the development of special effects they have included an excellent documentary, "Crossing the Frontier," as well as an informative and fun commentary from director Nick Castle and production designer Ron Cobb. A trailer and production stills round out the terrific supplements.

Lance Guest hosts the documentary, which I thought was a nice touch, and it includes an interview with Robert Preston on the set of the film.

If you're a fan of sci-fi or video games or you just miss the 80s like I do, then "The Last Starfighter" is a great trip down memory lane!