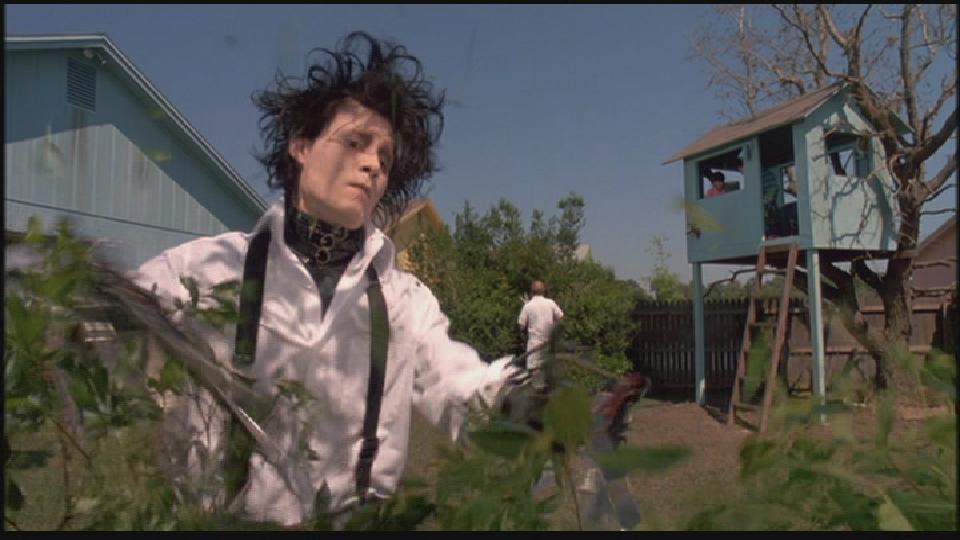 By Steve Vivona

Fox, $29.95, Widescreen

After directing the phenomenally successful "Batman" in 1989, Tim Burton was given the creative freedom to direct a film that was truly in line with his unique vision. "Edward Scissorhands" was a dark fairy tale that echoed films like "Frankenstein" with its misunderstood protagonist. It was also a visually stunning film that established Burton as one of Hollywood's most creative young minds.

"Edward Scissorhands" is set in a world many of us are familiar with -- suburbia. However the pastel-colored homes in this town are overshadowed by a bleak castle at the top of a hill. No one ever ventures up to that foreboding place until one day...

Peg Boggs (Dianne Wiest) is the town's local avon lady. After a particularly frustrating day she decides to see if anyone is home at the castle on the hill. There she finds a lonely young man named Edward. Producing scissors where his hands should be he proclaims, "I'm not finished."

A good natured soul, Peg invites the lonely boy to live with her family. He soon becomes one of the family and the hit of the neighborhood, carving imaginative topiary designs out of people's hedges and grooming all the local canines. Before long Edward is providing all the ladies in town with new and bizarre hairstyles.

Peg's daughter Kim (Winona Ryder) arrives home from a camping trip to find Edward in her bed. Horrified she thinks a monster has invaded her room. Even after the initial shock wears off Kim has a hard time adjusting to Edward. But it isn't long before she realizes what a kind and gentle soul Edward is, something the exact opposite of her boorish boyfriend Jim (Anthony Michael Hall).

Realizing the growing attraction between Edward and Kim, Jim concocts a scheme to ruin Edward's reputation with the locals. Soon Edward is an outcast and the town shuns the Boggs family just as quickly as they embraced their newfound celebrity. Before long Edward is hounded and hunted by the same people who lauded his arrival. Sound familiar?

"Edward Scissorhands" borrows from some of the classic monster tales but at the same time it is a unique and compelling fable as only Tim Burton could have imagined it. The world he has created is both dark and wonderful, and is only enhanced by Danny Elfman's haunting and beautiful score.

While the imagery is compelling it is the acting that really holds the piece together. Burton assembled a terrific ensemble that included Alan Arkin, Kathy Baker and the late, great Vincent Price, in his last major film role, an obvious homage to some of the classic horror films Burton was inspired by. Depp would become a frequent collaborator with Burton and he seems to be one of the few actors who truly understands Burton's vision.

Fox has put together a terrific tenth anniversary DVD of "Edward Scissorhands" with a bevy of extra features, not the least of which are two audio commentaries, one from Burton and one from Danny Elfman. Both are extremely informative, and Burton speaks with great affection for his cast. He explains his vision for the film and provides great behind-the-scenes detail.

Also included is a short featurette as well as soundbites that were obviously meant for an electronic press kit. Trailers, TV spots and concept art round out the supplements which can be accessed with the innovative 3D menus.

Picture quality on the widescreen image is also stellar. Colors are strong and the image is sharp and crisp, and free of grain. The dolby digital sound only enhances the film's breathtaking visuals.

Fox is quickly becoming a leader in the production of special editions and a brief promo before the film touts some of their feature-laden releases such as "Fight Club" and "Independence Day," and promises more to come with the eventual release of films like "X-Men" and "Me, Myself and Irene."