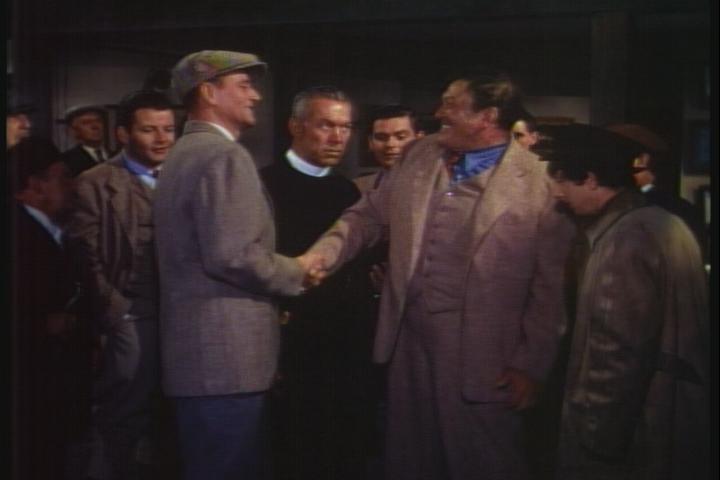 By Steve Vivona

Artisan/Republic, $24.95, Fullscreen

Director John Ford's films are part of the American lexicon. Films like "Stagecoach," "The Searchers" and "The Grapes of Wrath" are among the greatest ever made. Whether they were westerns or war movies, comedies or dramas, all Ford's films commented on American society and penetrated the soul of this country.

John Ford's most beloved film (and his favorite) was not about America at all, but his beloved native Ireland. For years Ford tried in vain to make "The Quiet Man" with his favorite collaborator John Wayne. Finally in 1952 Republic Pictures, a studio known for serials and B-Westerns, gave him the money for his pet project.

"The Quiet Man" tells the story of Sean Thornton (Wayne), a former boxer who, after accidentally killing an opponent in the ring, returns to the land of his birth to start a new life. Thornton immediately attracts the ire of the town bully Will Danaher (Victor McLaglen) when he purchases his mother's home, property that Danaher wanted for himself.

Sean has a difficult time adjusting to the customs of his native land especially when it comes to courting. He finds himself smitten by Will's sister, Mary Kate (Maureen O'Hara), a fiery redhead with a formidable temper. Town matchmaker Michaleen Flynn (Barry Fitzgerald) arranges for Sean to court Mary Kate and despite his immediate attraction for her he's forced to obey Irish custom and court her with Flynn as a chaperone.

Of course Will objects to the courtship but the townspeople convince him that if he allows his sister to marry Sean, he'll be able to court Sarah Tilane (Mildred Natwick) the richest woman in town. After Sean and Mary Kate wed Will attempts to announce his engagement with Sarah. This is news to her and she refuses his proposal. Enraged, Will refuses to allow Mary Kate to have her dowry.

Sean cannot understand Mary Kate's overwhelming need to have her "fortune," and it becomes a source of great tension for them. He refuses to confront Will for the money because he's afraid of what he might do to him. Eventually Mary Kate accuses him of cowardice and tries to leave Sean, setting the stage for one of the greatest brawls in film history!

"The Quiet Man" is Ford's most personal work. His love for his homeland is apparent in every lovingly-photographed frame of the lush countryside. Much of this film was shot on location in Ireland (making the studio shots that much more obvious), and many of the extras were members of Ford's family.

Casting on "The Quiet Man" was truly inspired. Wayne was always Ford's obvious choice to play Sean, and it's one of his signature roles. Sean is truly a quiet man, filled with brooding intensity, and afraid that people will discover the truth about his past. Maureen O'Hara was the perfect choice for Mary Kate. Ford had previously cast her in "How Green Was My Valley," his other Irish classic. O'Hara and Wayne had an undeniable chemistry in their five films together, and this film marks the pinnacle of their collaborations.

Despite their many differences Mary Kate loves Sean and wants to be a good wife to him. All she needs is proof that he loves her enough to fight for her. One of the greatest scenes happens after Sean drags Mary Kate back from the train station when she tries to leave him. The minute he lays her brother out and demands her money she instantly becomes a subservient wife and strolls home to cook him dinner. We know all will be well from then on.

Victor McLaglen was perhaps Ford's favorite actor besides John Wayne and he starred in a number of the director's early classics such as "The Lost Patrol" and "The Informant." Gruff and imposing, McLaglen serves as a great counterpoint to the kidner, gentler Wayne. It's interesting to note that he was nearly 70 when "The Quiet Man" was filmed, making that brawl all the more impressive.

It's hard to imagine "The Quiet Man" without Barry Fitzgerald as the impish Michaleen. Fitzgerald is all of Ireland rolled into one little man who loves two things: getting people together and a good stiff pint. He steals almost every scene he's in, and is the lighthearted center of the film. Fitzgerald can always be counted on to provide comic relief from the more intense proceedings.

Another Ford favorite appearing in "The Quiet Man" is Ward Bond as Father Lonergan, who also serves as the narrator for the proceedings. Bond was also one of Wayne's closest friends, a great character actor who was effective in almost any role. He is also well remembered as Burt the cop in "It's a Wonderful Life." Bond also had prominent roles in other Wayne favorites such as "The Searchers," "Rio Bravo" and "Fort Apache." He died in 1960.

"The Quiet Man" is at its heart a love story. It's about the collision of two very different worlds and how two people's love for each other is able to conquer that. It's also a tribute to the director's birthplace, a fiercely proud country steeped in tradition and the camaraderie that can be found sharing a pint and a song in the local pub.

Republic's DVD presentation of "The Quiet Man" is an accurate rendering of the lush settings but the source print needs major work and I hope the film will eventually be restored. Also included in a nice 20-minute featurette hosted by film critic Leonard Maltin about the film's production.