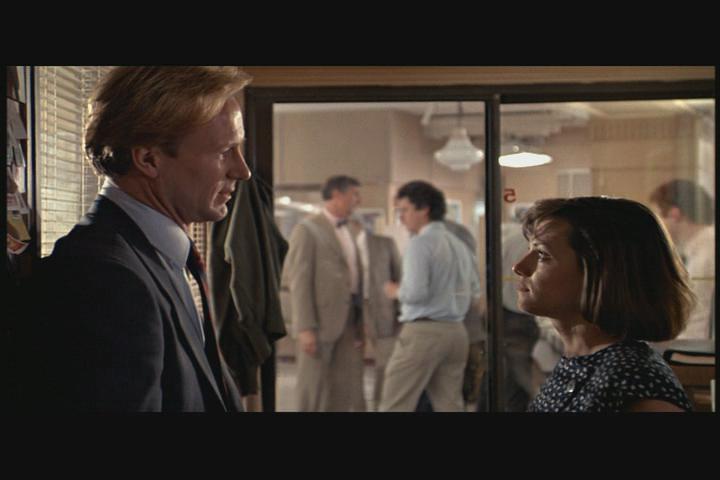 By Steve Vivona

Fox, $29.95, Widescreen

If there were ever an industry that needed to be skewered it was broadcast journalism. It needed it back in 1987 when "Broadcast News" was released, and it needs it even more now since the last decade ushered in the era of tabloid TV. I love watching vacuous know-nothing anchors (mainly on local broadcasts) ask stupid questions and engage in nonsensical banter on the air. There really is a difference between a reporter and an anchor.

While "Broadcast News" is an often-hilarious indictment of the news business it is also the story of three very different people in that business who comprise the most dysfunctional love triangle I've ever seen.

Jane Craig (Holly Hunter) is a frazzled, obsessive-compulsive producer whose life is so harried she needs to schedule little blocks of time where her emotions can flow out of her. She'll disconnect her phone and cry for a few minutes and then proceed with the day's insanity.

Jane's best friend is Aaron Altman (Albert Brooks), a brilliant newsman whose various neuroses prevent him from ever advancing in his field. Aaron is desperately in love with Jane but she sees their relationship as buddies more than anything else.

Into their lives comes Tom Grunnick (William Hurt), a former sports broadcaster who has just been hired by their network. Tom knows about as much about the news as Forrest Gump, and he freely admits he knows nothing about what he reads off the prompter. He pleads with Jane to help him better grasp his job and make him a better newsman. In reality he is content to be who is and get paid very well for it.

Despite the fact Tom's existence represents everything Jane hates about her business she is immediately attracted to his boyish good looks and dopey charm. The fact that Jane would fall for someone who is the antithesis of a good journalist incenses Aaron and he feels as though he must confess his feelings for her.

Jane realizes Tom is all wrong for her yet she pursues him. Tom finds her peculiarities attractive even though he realizes she doesn't approve of his undeserved rapid career advancement.

Meanwhile the network is planning massive layoffs and Aaron realizes his head may be on the chopping block. He begs for a chance to anchor the weekend news with disastrous results. As one technician puts it, "Nixon never sweat like this." Jane cuts short an evening with Tom to offer Aaron support and he unleashes his full fury on her about Tom. Now there is no going back for the three of them. Jane must make a decision, but who will she choose?

Writer-director James Brooks has a knack for off-kilter characters, and with Hunter and Albert Brooks in the cast he couldn't have found better actors to bring these kinds of characters to life. Even William Hurt, who was at the height of his dramatic leading man status, proved he had a knack for comedy.

The dialogue is brilliant and the banter these people engage in while in the midst of such high-stress, thankless jobs is often uproarious. The film gives the audience a glimpse beyond the glamour at a cutthroat profession that can crush a person. It serves to put a face on the people behind-the-scenes at the networks. These are really the people who do the work we often only attribute to the faces we see on the screen. Best line: (after a newsroom veteran is unceremoniously laid off by the general manager) "If there's anything I can do?"
"Well I certainly hope you'll die soon."

Jack Nicholson (A frequent collaborator with Brooks) is also on hand for an uncredited cameo that fits in rather nicely. Joan Cusack delivers a great supporting performance and proves yet again what a talented comedienne she is.

Brooks often laces his comedy with heavy doses of drama ("Terms of Endearment," "As Good as it Gets") and he interweaves the two brilliantly so what the audience gets is a fleshed out story with colorful, fully-developed characters. It's not odd to be laughing uncontrollably during one scene and crying during the next. He's really that good (let's ignore "I'll Do Anything," shall we?) and I wish he'd work a little more often as a director.