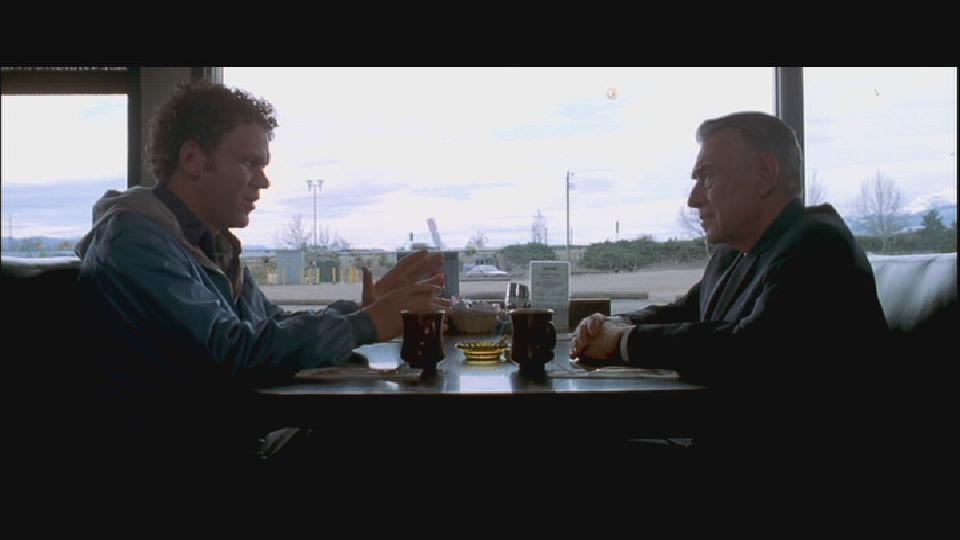 By Rob Wolejsza

with Phillip Baker Hall, John C. Reilly, Gwyneth Paltrow, Samuel L. Jackson. Written and directed by Paul Thomas Anderson.
Columbia Tristar, Rated R, 101 min.

John (John C. Reilly) is flat-broke and sitting outside a truckstop cafe in Nevada when he's approached by a middle-aged man who offers him a cigarette and a cup of coffee. With no other prospects to speak of, John accepts, but not without some trepidation. After all this old timer, named Sydney (Phillip Baker Hall), seems to have a sixth sense about John.

He picks up on John's desperation, and after John explains that he lost all his money at blackjack, Sydney offers him a ride back to Reno and a lesson on how to beat the house. And against his better judgment, John takes him up on it.

This opening passage of Paul Thomas Anderson's wonderful debut feature, "Hard Eight", is crucial in setting the atmosphere and rhythm of the film. The dialogue is fresh and clever; the actors seem to be living in their characters' skins. It's crucial because unless we're hooked from the start, we're going to be straining for the plot to kick in. And one of the beautiful things about "Hard Eight" is that it really doesn't have much of plot to speak of. Instead, it's more interested in creating an atmosphere and a mood unique to its location, which is the seamier side of Reno, Nevada. And on those terms it works. Magically.

Once in Reno, Sydney goes about teaching John the ropes. In a fascinating sequence we learn, along with John, how to "win" more money by recycling the house comp card. (On one of the two running audio commentaries, Anderson explains that, unfortunately, the casinos have become wise to this practice.) It doesn't take long for John to become Sydney's apprentice. He's hooked.

End of Act One. Act Two opens two years later. John and Sydney are still working Reno, John apparently having amassed a nice bankroll. He finds himself falling for a cocktail waitress (Gwyneth Paltrow) who hooks on the side, and making friends with a slick operator named Jimmy (Samuel L. Jackson). Sydney doesn't mind the girl (In fact, if John is his surrogate son, the waitress becomes a sort of surrogate daughter.) But Jimmy's a different story. He's loud, he's obnoxious, he's too slick for his own good. And he knows secrets about Sydney that Sydney would rather keep to himself.

This all might sound like it's going to lead up to an explosive finale, and it does in a way, but not how you might expect. Anderson is more interested in dialogue and character, and he has written some choice parts here, especially Hall's. With his craggy demeanor, sad, shopworn face, and world-weary outlook, Hall takes the part of a lifetime and runs with it. Equally good are Reilly as the
not-too-intelligent John, Paltrow (in one of the few roles I could actually stand her in) as the simple-minded waitress, and Jackson, who could probably pull this kind of role off in his sleep, but still shows he has charisma to spare.

For those who have seen Anderson's sprawling, brilliant, "Boogie Nights," and his equally sprawling, utterly pretentious, "Magnolia," "Hard Eight" is a treat. It showcases his undeniable talent as a writer/director, and it proves that if he ever wants to dial down and do
another small film, he can definitely pull it off.

Columbia/Tri-Star's presentation of "Hard Eight" on DVD couldn't be better. For a film that was pretty much tossed away by it's distributor (Rysher Entertaiment), "Hard Eight" has gotten the deluxe treatment. There are two audio commentaries: one with Anderson by himself, and one with Anderson and Hall. There's a deleted scene between Reilly and Paltrow, and, most interestingly, clips from Anderson's rehearsals at the Actors' Workshop. These clips give some insight into how the script progressed and how certain scenes were originally imagined. For anyone even remotely interested in Anderson's work, "Hard Eight" is a must.