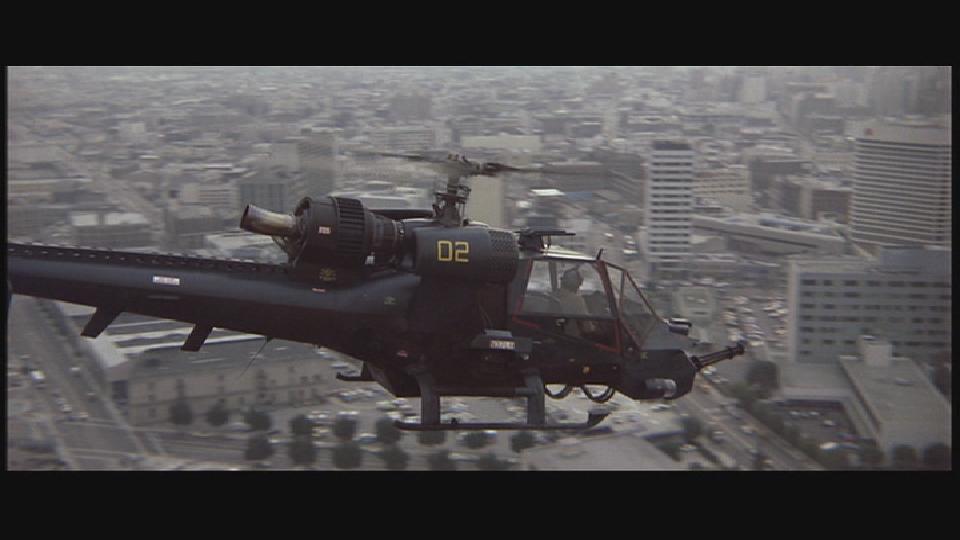 By Steve Vivona

Columbia Tristar, $27.95, Widescreen/Fullscreen

I've always been a fan of Roy Scheider and could never understand what happened to his career. In the late seventies and early eighties he starred in a number of popular hits, including "Marathon Man," "All that Jazz," and of course, "Jaws." While not critical successes two of my favorite Scheider films are "2010," directed by Peter Hyams and "Blue Thunder," directed by John Badham.

Badham was at the top of his game in the early eighties having already directed the immensely popular, "Saturday Night Fever," the remake of "Dracula," starring Frank Langella and "WarGames," starring a young Matthew Broderick. In 1983 (the same year "WarGames" was released) Badham brought out "Blue Thunder," another entertaining techno-thriller starring Scheider, Warren Oates (in his final film), Candy Clark, Daniel Stern and Malcom McDowell.

Scheider stars as Frank Murphy, an L.A. cop on the verge of a breakdown. Murphy, a pilot in the Astro Division helicopter unit, follows his own drummer much to the chagrin of his C.O. Captain Braddock (Oates in a great scenery-chewing final performance). Braddock assigns Murphy to train rookie Officer Lymangood (a very young Daniel Stern), and the pair get into trouble their first night together, resulting in a suspension for Murphy.

Before being grounded Murphy and Lymangood witness a brutal assault on the L.A. police commissioner that is classified as a rape. Murphy knows there was no rape and can't understand why officials close the case without further investigation. His attention is diverted from that case when he is reassigned to a special government project.

At a top secret airfield Murphy is introduced to "Blue Thunder," a special government helicopter intended for "urban pacification." Supposedly designed to combat terrorism, Blue Thunder is a modern marvel with missles, gun turrets and an on-board computer. Murphy is chosen to pilot Blue Thunder on some test runs, but Cochrane, an "old war buddy" who tried to have him court-martialed in Vietnam(McDowell), believes he's too great a risk, and wants him taken out permanently.

Murphy unravels an elaborate government plot to stir up trouble in L.A.'s barrios and ghettos so they can make an effective demonstration of Blue Thunder, which is related to the assault on the police commissioner, who was obviously silenced after uncovering the plot. After his partner is killed Murphy hijacks Blue Thunder and sets the stage for an impressive aerial battle above the streets of L.A.

"Blue Thunder" is simply some of the best popcorn fare the early eighties had to offer. Scheider gives one of his best performances as the edgy cop whose past comes back to haunt him. His sardonic humor belies a tormented man who can't escape the horrors he saw in Vietnam. The reappearance of Cochrane brings all the demons back and Murphy must beat them back to save the city from the chaos Blue Thunder will bring.

McDowell is deliciously evil as F.E. Cochrane, a man who's been gunning for Murphy since the war. "What's F.E. stand for?" asks Lymangood. "F**K everybody," Murphy replies.

The climactic battle above L.A. is one of the most exciting aerial battles ever staged, even if it's a bit far fetched. To enhance the realism Scheider and company actual flew in the copters. Rather than use rear screen projection the filmmakers used actual pilots and had a set of dummy controls for the actors to use. Must've been a tight squeeze!

"Blue Thunder" is a tried and true tale of government conspiracies and shady dealings not meant for public consumption. Murphy is an everyman hero who just want to do the right thing and Scheider was always at his best when playing the common man under extraordinary circumstances.

CT's DVD of "Blue Thunder" doesn't disappoint especially in the audio department. The final battle is really enhanced by the dolby digital surround effects. The widescreen image is terrific (don't bother with the fullscreen version) and it is letterboxed at slightly less than a 2.35:1 aspect ratio. Colors are strong and the image is crisp.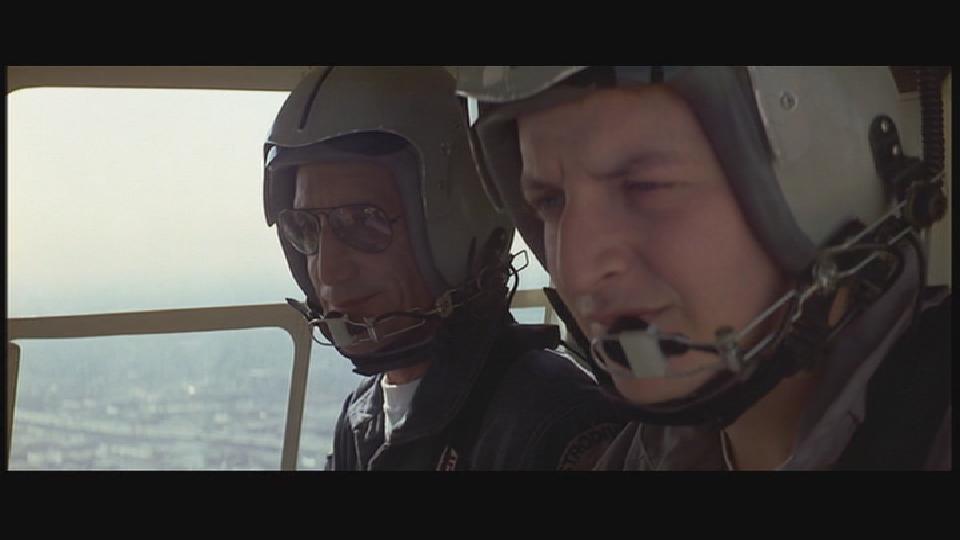 Roy Scheider and Daniel Stern.