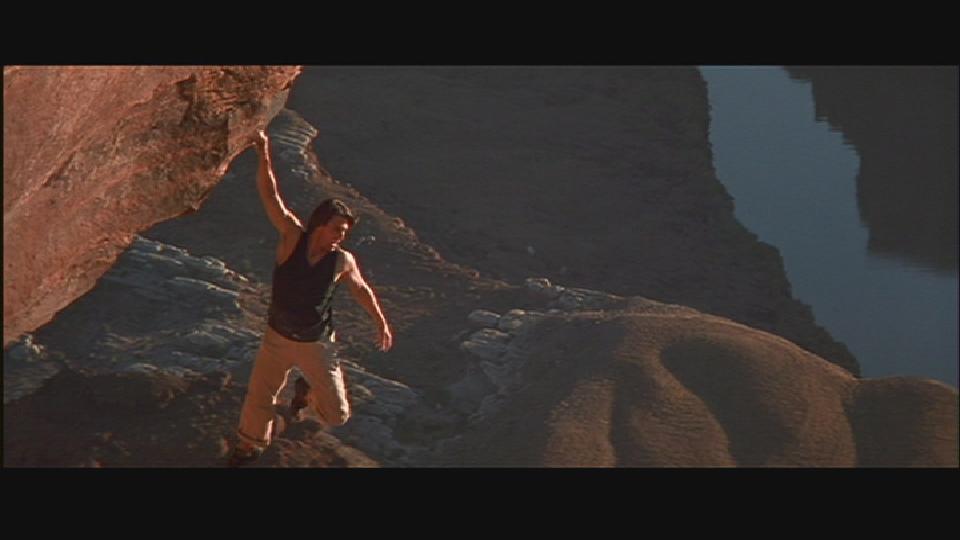 By Steve Vivona

I'll be honest. I was not a fan of the original "Mission: Impossible" (the movie, that is). I thought that while there were some fine action sequences the film was an incomprehensible mess. Directed by Brian DePalma and starring Tom Cruise, "Mission: Impossible" tried to out James Bond James Bond, and the result was a sensory overload of action and a plot that was so over the top it made Bond seem ultra-realistic. It also did a disservice to the television series by making the character of Jim Phelps (as played by Jon Voight) a villain.

When I heard action guru John Woo would be directing "MI:2" I felt it was an encouraging step in the right direction. Woo is the MAN when it comes to action, and if anyone out there reading this has not seen his original Hong Kong efforts then stop reading and go watch them. They are the standard by which any action film (especially in the U.S.) should judge itself by.

"MI:2" thankfully went for a simpler plot and like the best of the James Bond films, filtered the story down to hero vs. villain. No subterfuge, no double and triple-crosses, just two guys who hate each other doing battle with the world at stake.

Cruise is back as IMF agent Ethan Hunt, a man who thrives on the adrenaline rush he gets from harrowing situations. His vacation is interrupted by an urgent summons from the shadowy IMF director (Anthony Hopkins in a nice cameo) who informs him that Sean Ambrose, a rogue agent (Dougray Scott) has stolen a deadly virus and plans to release it in Sydney if his monetary demands aren't met (sound familiar?)

Ambrose also has it in for Hunt. For years he played second fiddle to Hunt and operated in his shadow, even being forced to impersonate him when Hunt was away on more important missions. He sees this as a chance to destroy Hunt in the process, which is only icing on the cake.

Hunt enlists beautiful thief Nyah Hall (Thandie Newton) to aid him in bringing down Ambrose. Nyah had a prior relationship with Ambrose and Hunt is hoping his weakness for her will be a fatal one.

For a Woo effort the film takes awhile to get off the ground, but once it does the adrenaline rush is non-stop. In terms of action sequences it blows the original away and ranks among the best of John Woo's films. The plot is much easier to decipher and all the characters are well drawn. Giving Hunt a love interest in this film was a good idea. It serves to humanize him and gives the story a little more tension and depth. Scott makes for a thoroughly despicable and charasmatic villain.

Paramount has pulled out all the stops for their DVD of "MI:2" and it's probably their most impressive effort to date. A little slow in coming to the table as far as extra features Paramount seems to be making up for lost time with this film. The transfer is incredible. The colors are lush and the image is razor-sharp with no artifacting. This is a true demo disc with incredible sound that will blow the doors off any system.

Included in the supplements is a full-length audio commentary from John Woo. He can be a little hard to understand but its well worth listening to. A promotional featurette is also included. Sure its fluff but at least they included it. More impressive are the analyses of all the major stunt sequences which really dissect how these amazing scenes were crafted.

Some other nice supplements include the "Mission: Improbable" parody starring Ben Stiller, Cruise and Woo, taken from last years MTV movie awards and Metallica's "I Disappear" music video. One minor quibble: where's the trailer?? Still the fact they went so far as to include the parody is really impressive and shows Paramount is willing to go the extra mile.